Singlemode
The single path through which light travels ensures no data scrambling, while its longer reach makes it more suitable for transmissions within a 100-mile range and above.
Singlemode fibers are optical fibers designed to carry light only directly down the fiber in traverse mode. Therefore there is less light, making it the most suitable option for longer distances and higher bandwidths.
Our organization is often called upon to work on projects that require singlemode cable to be run over distances greater than 500 miles. Due to excessive distances, this cable is combined with higher-speed technology.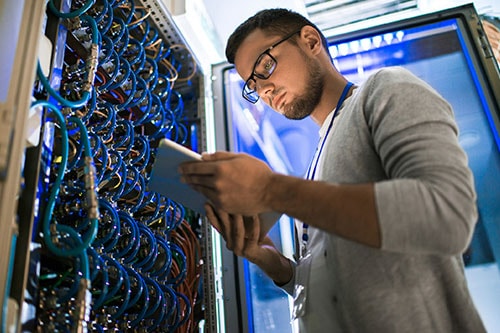 RBS' area of expertise with singlemode fiber optic cable, include:
Football Stadiums
Golf Courses
Data Centers
Universities
Information Providers
Digital Signage
Unlike many service providers, we work with clients in finding the most suitable option. If cost savings can be made through the installation of a more suitable product, our Project Managers will inform the client. Companies that partner with RBS place themselves in good hands. Our internal policies, experience, and attention to detail mean all our projects are fit for purpose.